Slaughter Processor – Trimming / Cutting
Overview
In the process of slaughtering a person who works in trimming/cutting will process slaughtered beef, sheep, goat, pork and/or poultry by cutting carcass/meat to meet compliance standards and targets.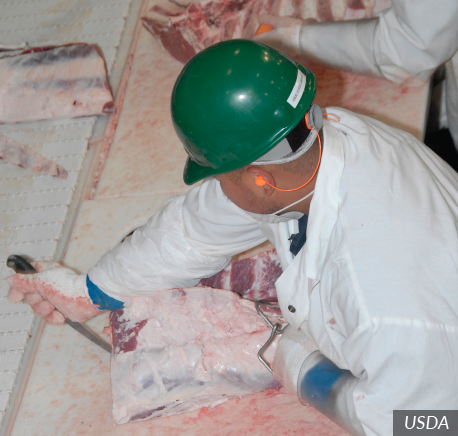 What responsibilities will I have?
Knowledge of animal anatomy and cuts of meat
Adhere to safety procedures and policies to slaughter animals
Cut carcasses for further processing
Separate meat and by-products
Inspect meat products for defects, bruises or blemishes and remove them along with any excess fat
Process prime parts into cuts that are ready for retail use, e.g. using knives, cleavers, meat saws, and saws or other equipment
Check products to ensure they are up to standards
Monitor machines and equipment, and adjust if necessary
Maintain and clean machines used in meat preparing process
What education and training is required?
A high school diploma is required for a slaughter processor -trimmer/cutter career and advanced training or an associate's degree in meat science may be preferred for some careers.
To pursue a career as a Slaughter Processer – Trimmer/Cutter:
The following high school courses are recommended: agricultural education, mathematics, culinary courses and computer courses.
Where can I work?
You will find slaughter processor - cutter/trimmer jobs with large food processing companies, or you may also work at smaller independent animal processing facilities.
Future Job Market / Outlook
The future outlook for slaughter processors – trimmer/cutters will be fair over the next five years.
Suggested Professional Organizations and Associations
American Association of Meat Processors
American Council for Food Safety and Quality
Association of Meat Inspectors