Sawmill Operator
Overview
A sawmill operator is responsible for daily production, quality control, safety, and daily operation of a sawmill and management of its employees.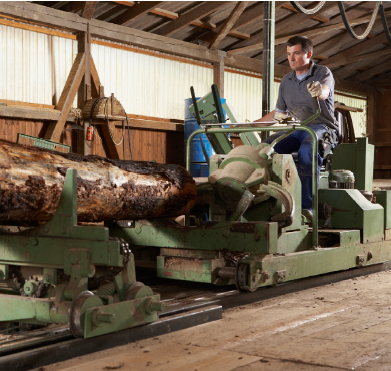 What responsibilities will I have?
Operate sawmill to saw logs into rough sawn lumber and dimensional lumber
Install and maintain all sawmill/planer machinery and equipment
Utilize woodworking tools like hand-held router, table saw, band saw, miter saw, sander, etc. when necessary
Train machine operators and employees of the sawmill
Perform preventative maintenance of mill including repair planning
Operate a loader and/or forklift to lift and load logs, cants, and boards onto trailers
Ensure quality assurance of lumber product output
Stack and palletize materials
Grade lumber
Maintain safe operations by adhering to safety procedures and regulations and utilizing safety equipment
Troubleshoot equipment that is not functioning properly
Clean and organize sawmill regularly
What education and training is required?
A high school diploma is required to work as a sawmill operator. Training in sawmill maintenance or other millwright maintenance is preferred.
To pursue a career as a Sawmill Operator:
The following high school courses are recommended: agricultural education, natural resources, industrial technology, business and computer courses, and mathematics.
Typical Employers:
Sawmill operators work for lumber or timber companies and suppliers as well as lumber product manufacturers, often in forested areas.
Future Job Market/Outlook
The future outlook for a sawmill operator will be fair over the next five years.
Suggested Professional Organizations and Associations
National Hardwood Lumber Association
Timber Products Manufacturers Association
State and local timber, lumber, and forestry associations