Sales Representative - Equipment and Ag Systems
Overview
Sales representatives specializing in agricultural equipment, ag systems, or precision agriculture technology optimize retail sales of their products to an assigned territory.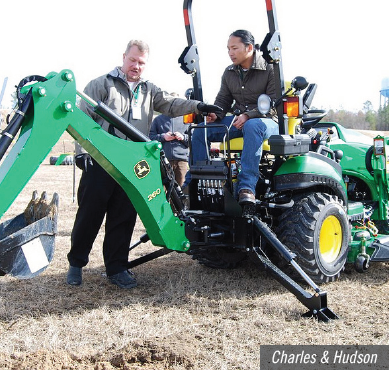 What responsibilities will I have?
Oversee retail sales and promotion of products and relationship building
Conduct sales calls and presentations
Make recommendations to customers
Monitor competitive activities
Implement marketing tools and maintain public relations through customer education and promotion of new products and services
Develop sales territory for future growth
Manage inventory of new and used equipment and parts
Maintain relationships within dealer guidelines and provide after sales product follow-ups as well as support equipment operations as needed
Attend industry tradeshows and events to represent products and communicate with customers in-person
Coordinate with billing or accounting staff to ensure accurate invoicing
Monitor market conditions and changes
What education and training is required?
A bachelor's degree in business, agricultural business, agriculture, marketing, or agricultural systems is most often preferred to be a sales representative – equipment and ag systems.
To pursue a career as a Sales Representative – Equipment and Ag Systems:
The following high school courses are recommended: agricultural education, agricultural mechanics, business courses, computer courses, and mathematics.
Typical Employers:
Sales representatives in agricultural equipment and ag systems most often work for agricultural equipment manufacturers and dealerships or ag systems manufacturers and dealers.
Future Job Market/Outlook
The future outlook for a sales representative in ag equipment and ag systems will be good over the next five years.
Suggested Professional Organizations and Associations
Farm Equipment Manufacturers Association
North American Equipment Dealers Association
State and regional equipment dealers associations