Ruminant Nutritionist
Overview
Ruminant nutritionists determine feed rations, conduct research and consult farmers and ranchers regarding feeing practices for their animals. Ruminant animals include cow, sheep, llamas and goats.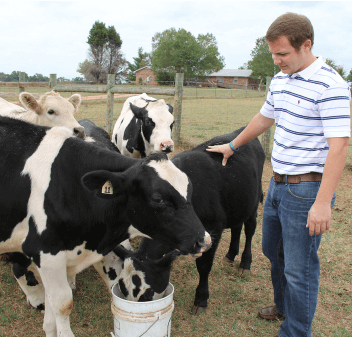 What responsibilities will I have?
Consider the varied nutritional needs of the animals in question and formulate balanced feed rations based on nutritional and caloric requirements of the animals
Assess condition of animals (level of fatness), as well as level of activity and physiological demands (productivity performance, reproductive needs, growth and/or lactation requirements, or need for weight gain or loss) depending on season, temperature, and hair coat thickness
Utilize computer programs specially created for particular species or type of livestock to formulate best, low-cost rations for a client
Involvement in research or teaching activities, from conducting work in conjunction with livestock veterinarians, animal health technicians, zookeepers, to working with industry research groups and scientists, such as with meat scientists
Regularly call on and service company clients and customers
Provide technical training to customers and sales representatives
Understand and apply the data available to support ruminant performance enhancement technologies
Work with feed production team to develop new feed products and ensure highest level of quality of feeds sold and produced for sale
Build and maintain relationships and influence with others including nutritionists, meat scientists, veterinarians, extension and university personnel, packing plant employees
Determine the effectiveness of dietary regimes
Carry out sales and marketing strategies to promote products
Understand trends in the industry and changes to governmental regulations
What education and training is required?
Typically, ruminant nutritionists will have a masters degree or doctorate degree in animal science, ruminant nutrition, forage production or a similar field.
To pursue a career as a ruminant nutritionist:
The following high school courses are recommended: agricultural education, animal science, biology, chemistry and mathematics.
Where can I work?
Ruminant nutritionists can work for both large and small animal production companies, or animal health/feed companies. State and national governments may also employee ruminant nutritionist.
Future Job Market / Outlook
The future outlook for a ruminant nutritionist will be good over the next five years.
Suggested Professional Organizations and Associations
American Society of Animal Science
American Sheep Industry Association
National Cattleman's Beef Association
American Feed Industry Association
National Grain and Feed Association