Overview
A row crop producer or farmer plants and harvests traditional row crops such as corn, soybeans, wheat, cotton, potatoes, canola, sunflowers, flax, sugar beets, field pea, etc. independently or for a large farm or company.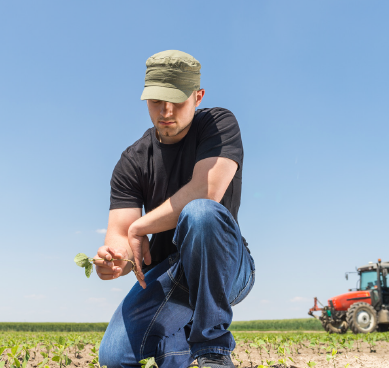 What responsibilities will I have?
Purchase seed from area dealer or company prior to beginning planting season in the spring
Perform tillage tasks in both spring and fall seasons
Operate farm equipment such as tractors, sprayers, loaders, discs, cultivators, planters, grain carts, and harvesters
Scout and inspect crops for need of pesticides, fungicides, or herbicides; spray as needed
Manage fertility levels and treat with appropriate product
Harvest crops once ready in fall
Perform routine and minor maintenance on equipment; prepare equipment for busy seasons
Manage grain and harvest inventory
Sell harvested product
Haul grain to elevators and/or processing plants via grain cart or semi-truck
If in a business or leadership role, manage bills and paperwork and maintain accurate records
What education and training is required?
A high school diploma is required to be a row crop farmer but an associate's or bachelor's degree in a relevant or supplementary field such as agribusiness, plant science, or agriculture would be helpful. Certifications such as a CDL or pesticide applicator licenses are also often desired.
To pursue a career as a Row Crop Producer:
The following high school courses are recommended: agricultural education courses, agricultural mechanics, plant science, biology, business courses, and mathematics.
Typical Employers:
Row crop producers may work independently on their own farm or they may work for large farms and agricultural companies that produce crops and crop-related products.
Future Job Market/Outlook
The future outlook for a row crop producer will be great over the next five years.
Suggested Professional Organizations and Associations
American Farm Bureau Federation
National Farmers Organization
National Corn Growers Association
American Soybean Association
National Association of Wheat Growers
National Cotton Council of America
U.S. Canola Association
National Sunflower Association
State and local row crop organizations