Pressure Washer Operator
Overview
Operates power washer to remove dirt, debris, and staining within animal production facilities and animal transportation vehicles.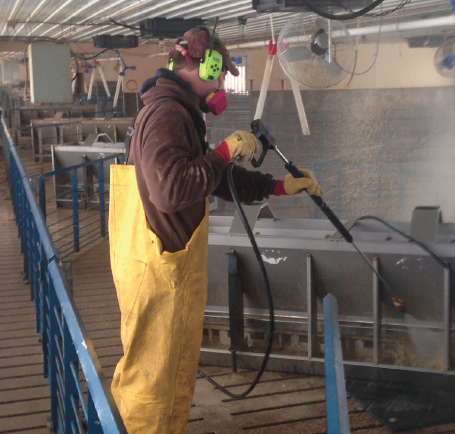 What responsibilities will I have?
Operate pressure washer machinery safely and effectively to clean a variety of surfaces.
Use degreasers or removal chemical as label recommends when requested by supervision
Maintain established schedule as requested and provide feedback to improve schedule efficiency
Erect scaffolding as needed
Clean up rubble, debris and other waste materials from area being washed
Carry out company biosecurity and safety procedures.
Other manual duties as directed.
Read plans, instructions, or specifications to determine work activities.
Keep tools and equipment in good repair
What education and training is required?
A high school diploma is required to be a pressure washer operator.
To pursue a career as pressure washer operator:
The following high school courses are recommended: agricultural education, Spanish, mathematics, and personal finance.
Where can I work?
Pressure Washer Operators primarily work for animal production and or animal feed companies but may also work for construction companies, in processing plants, chemical plants or independently doing residential/commercial work.
Future Job Market / Outlook
The future outlook for pressure washer operator will be good over the next five years.
Suggested Professional Organizations and Associations
Pressure Washing Association
American Trucking Association
United Association of Journeymen and Apprentices