Nematologist
Current Job Openings:
No current listings at this time, Click Here to search for other openings
Overview
A nematologist specifically studies nematodes and their interaction with plants. Nematodes are microscopic rounds worms that can transmit diseases and/or attack soil, water and insects.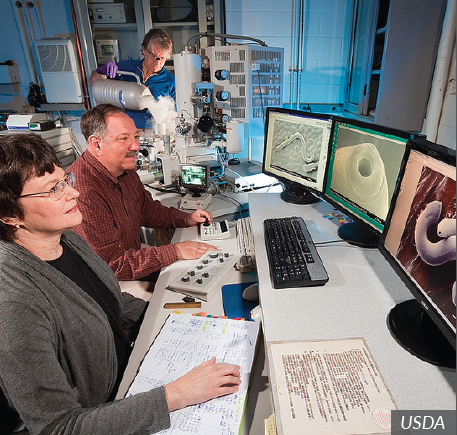 What responsibilities will I have?
Develop methods and apparatus for securing representative soil samples containing nematodes, and for isolating, mounting, counting, and identifying specimens
Investigate and develop pest management and control measures, such as chemical, hot water and steam treatments, soil fumigation, biological crop rotations, and cultural practices
Develop microbial nematicide products including various types of soil applications and seed treatments that will measure efficacy against nematodes
Determine the mode of action of our nematicides – effects on eggs, egg laying, juveniles, adults, etc. Direct or indirect effects, prevention of gall formation or feeding, and others
Monitor literature and maintain academic and industry contacts
Contribute to writing of patents, grants and collaborative research agreements
Maintain an accurate and up-to-date, witnessed written account of experimental protocols and results
Maintain a high level of scientific skills and knowledge of new technologies and research
Supervise lab assistants and interns
Provide expertise and research learnings about nematodes to farmers
Look at potential nematode resistant genes that could possibly be incorporated into crops
What education and training is required?
A variety of undergraduate degrees are acceptable for a future as a nematologist including biology, entomology, or ecology.
To pursue a career as a nematologist:
The following high school courses are recommended: agricultural education, horticulture, mathematics, biology, chemistry and environmental sciences
Where can I work?
The wok environment of a nematologist can be in a laboratory, greenhouse and field. Universities, agricultural seed and chemical companies and government agencies hire nematologists.
Future Job Market / Outlook
The future outlook for a nematologist will be good over the next five years.
Suggested Professional Organizations and Associations
Soil Science Society of America
Entomological Association of America