Marine Biologist
Overview
Marine biologists study aquatic organisms and their habitats.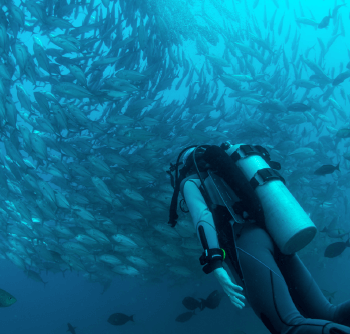 What responsibilities will I have?
Design controlled laboratory and natural field experiments to meet objectives
Observe marine wildlife and organisms in their natural habitats
Inventory specific populations over periods of time
Collect water, mineral and plant samples to test in a laboratory setting
Measure water conditions to determine the value of life for aquatic organisms
Dissect and preserve marine life as well as samples for current and future studies
Study aquatic life diseases and create plans to control outbreaks
Monitor environmental pollution and create plans to notify government officials
Utilize various laboratory equipment and tools as well as computer software programs
Oversee activity and duties of assisting marine technicians
Follow up with employer and invested third parties with research findings
Write and publish journals or reports on research findings
Oversee the care and maintenance of aquatic animals in captivity or raised for research purposes
Serve as an expert regarding marine conservation and aquaculture practices
What education and training is required?
A minimum of a bachelor's degree in marine biology or a closely related field is required to become a marine biologist. A master's degree is often preferred, however.
To pursue a career as a Marine Biologist:
The following high school courses are recommended: agricultural education, biology, earth science, and mathematics.
Where can I work?
Aquaculture production farms, government agencies, universities, zoos, aquariums, and research firms employ marine biologists.
Future Job Market / Outlook
The future outlook for a marine biologist will be fair over the next five years.
Suggested Professional Organizations and Associations
MarineBio Conservation Society
Society for Conservation Biology
American Institute of Biological Sciences
National Association of Marine Laboratories