Logger
Current Job Openings:
No current listings at this time, Click Here to search for other openings
Overview
Loggers, lumberjacks, or timber fallers work in the timber industry, cutting down trees and processing them into logs.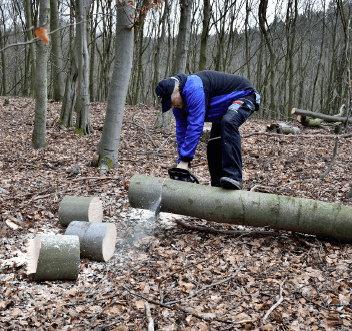 What responsibilities will I have?
Cut down trees using chain saws and other specialty logging equipment
Remove excess limbs and branches
Determine how much lumber a tree will yield by measurement and scale
Trim logs into specific lengths at the cutting site
Chain logs to tractors or other machines that will tow logs to a loading site
May be required to operate tractor or other towing machine
May be required to climb trees for inspection, trimming, or to attach cable rigging for harvest
Guide logs when necessary over obstacles
Inspect and maintain equipment for optimal safety
What education and training is required?
A high school diploma is required to become a logger.
To pursue a career as a Logger:
The following high school courses are recommended: agricultural education, mathematics, natural resources, and computer courses.
Where can I work? How much money will I make?
Most loggers work for lumber or timber companies or state or national forest associations or groups.
Future Job Market / Outlook
The future outlook for a logger will be fair over the next five years.
Suggested Professional Organizations and Associations
State Loggers Associations
State Forestry Associations
Tree Care Industry Association