Livestock Hauler
Overview
A livestock hauler safely and efficiently delivers livestock from a farm to market or processing plant with animal welfare being the foremost concern.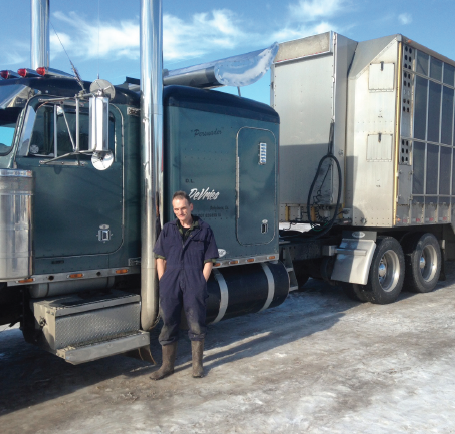 What responsibilities will I have?
Drive livestock to and from market/slaughter house to farm
Observe all government and company regulations at all times
Responsible for any and all needed maintenance on tractor or trailer to be taken care of by the garage or maintenance personnel
Pre-trip the truck (tires, fuel, oil) and check the load before leaving
Monitor the livestock's conditions on the trip and take appropriate action
Help load and unload truck
Accurately complete delivery forms and forward the documentation for timely processing
Post-trip the truck (wash, fuel, tires)
Comply with all DOT rules and regulations as well as biosecurity requirements set by company
Maintain an excellent safety record
What education and training is required?
A high school diploma plus CDL certification is required.
To pursue a career as a Livestock Hauler:
The following high school courses are recommended: agricultural education, a focus on sciences like animal science and biology, Spanish, and mathematics. You must also be willing to work flexible hours.
Where can I work?
Food and livestock production companies employ livestock haulers.
Future Job Market / Outlook
The future outlook for a livestock hauler will be great over the next five years.
Suggested Professional Organizations and Associations
United Truck Drivers Association
Women in Trucking Association
American Trucking Association