Overview:
Landscape Designers are responsible for creating, presenting, and overseeing the development of landscapes for individuals and companies. They also provide maintenance services and landscaping designs.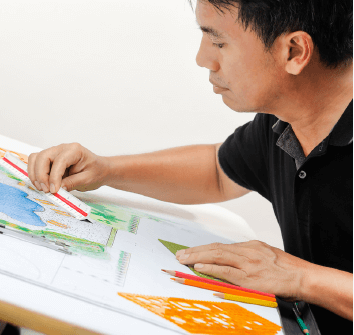 What responsibilities will I have?
Create garden designs on paper and in the field using perennials, annual color, edibles, containers, and outdoor furniture.
Analyze natural and manmade elements of the area including soil, slope, drainage and natural vegetation, lighting and other construction projects.
Utilize geospatial technology to analyze landscaping plans.
Manage installation crews.
Meet with clients and manage client accounts.
Negotiate and coordinate contracts with clientele and vendors.
Responsible for budgets and plans.
What education and training is required?
An associates or bachelor's degree in landscape design, horticulture, turf grass, plant science, biology or related field is required.
To pursue a career as a Seed Production Technician:
The following high school courses are recommended to prepare for a diploma program:a focus on science (particularly biology /botany/earth science/geography), mathematics, and business are also recommended.
Typical Employers:
Employed by greenhouses, nurseries, government agencies, golf courses, athletic venues or universities.
Future Job Market/Outlook:
Depending on location the job market for landscape designers can be considered good.
Suggested Professional Organizations and Associations:
Soil Science Society of America
American Nursery and Landscape Association
Committee for Sustainable Agriculture
Weed Science Society of America
American Farm Bureau Federation
Professional Landscape Designers