Overview:
Hydrologists oversee and implement the examination of water that is either above or below the earth's surface through physical characteristics, distribution, and circulation.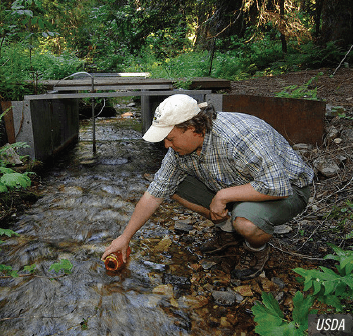 What responsibilities will I have?
Research and understand the movement of water in the environment and its impacts on the environment
Supervision of field activities/research trials
Oversee groundwater flow and transport modeling in the environment
Assessment of natural attenuation processes in soil and groundwater
Perform environmental consulting
Design dams, ponds, piping and pumping systems, as well as sewage system for rainfall
Study water contamination, how it takes place and prevention
Predict changes in climates and ecosystems
Supervise technicians assisting with your research or field work
Prepare reports and documents with findings and recommendations
Advise clients on ways they can preserve their water sources
What education and training is required?
A bachelor's degree in biology or a related field, such as earth science, geology, chemistry or environmental science/engineering is required. Positions that are research focused require a master's or doctorate degree.
To pursue a career as a Hydrologist:
The following high school courses are recommended: agricultural education, science, biology, chemistry, earth science, geology, physics and mathematics.
Typical Employers:
Typical employers are research firms, environmental consulting companies, conservation authorities, state and federal government, colleges/universities and environmental organizations.
Future Job Market/Outlook:
The future outlook for Hydrologist is projected to be fair.
Suggested Professional Organizations and Associations:
American Water Resources Association
International Association for Environmental Hydrology
National Groundwater Association
American Water Resources Association