Overview:
A Horticulturist is responsible for increasing yield, improving vigor, size, and taste of plants. They also coordinate research programs for selective crops. Horticulturists must have extensive knowledge about trees, flowers, vegetables, nuts, bushes, and fruits.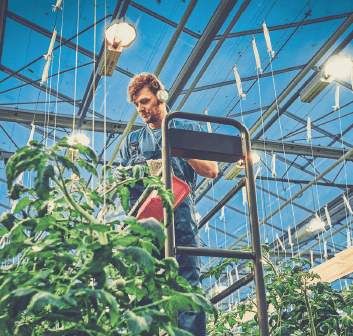 What responsibilities will I have?
Oversee the production and care of plants, fruits and vegetables
Manage crop scheduling for timing of appropriate planting and harvesting
Perform propagation, irrigation, and pest management of plants
Control plant growth regulation through mixing and testing fertilizers, and monitor injectors in greenhouses
Responsible for greenhouse environment management and maintenance of plant material in assigned greenhouses
Direct labor in the functions of crop management
Operate equipment such as vans, tractors and sprayers
Oversee seasonal staff and production labor
What education and training is required?
Post-Secondary education is beneficial but not required. An associate's degree or equivalent or six months to one year related experience and/or training; or equivalent combination of education and experience. Certifications such as a Pesticide Applicator's License are typically preferred.
To pursue a career as a Horticulturist:
The following high school courses are recommended to prepare for a diploma program:a focus on science (particularly biology/chemistry/botany), mathematics, and computer science are also recommended.
Typical Employers:
Employed by plant and food production businesses, research firms, homeowners, and municipalities.
Future Job Market/Outlook:
With increased experience and education individuals may be able to advance to higher level management positions or as grower. If working in a laboratory setting advancement may lead to becoming a researcher or lab foreman.
Suggested Professional Organizations and Associations:
Soil Science Society of America
National Alliance of Independent Crop Consultants
American Society of Agronomy
Committee for Sustainable Agriculture
Crop Science Society of America
Weed Science Society of America
American Farm Bureau Federation
National Farmers Organization