Herd Nutritionist
Overview
Research and advisory role that advises on raw material product selection, maintenance feeding programs and modification of diets to meet certain desired outcomes.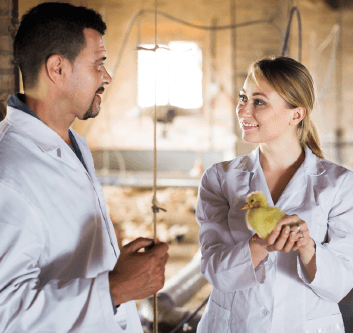 What responsibilities will I have?
Frequently observe animals' behavior and eating habits
Understand current feed rations and nutritional value
Get to know the farm and the ultimate end use for the animals to better formulate a diet for them
Educate farmer and employee on appropriate diets, product mix, dietary planning and preparation of fodder or food to treat an illness or disease and/or to enhance and maintain optimum health performance
Determine performance benchmarks and process as defined by regulatory and company policies
Conduct and evaluate dietary studies and other fodder, food and nutrition-related research
Monitor aspects of feed manufacturing and quality control
Advise on product development and marketing strategies and provide nutritional information to consumer market
Monitor aspects of feed manufacturing and quality control
Research alternative raw product inputs for desired minimum nutritional results
Assist in keeping records of anti-biotics, medicines etc.

What education and training is required?
A bachelor's degree in animal science, poultry science or other related field is required. A masters degree in animal nutrition may be required for some roles.
To pursue a career as a herd nutritionist:
The following high school courses are recommended: agricultural education, mathematics, anatomy, biology, chemistry and computer courses.
Where can I work?
Depending upon the animal you may work for a cooperative, veterinarian, a feed company or independently.
Future Job Market / Outlook
The future outlook for a herd nutritionist will be good over the next five years.
Suggested Professional Organizations and Associations
Animal Nutrition Association
American Association of Swine Practitioners
American Poultry Association
American Society of Animal Science