Greenhouse Manager
Overview
Greenhouse managers are responsible for the daily operations involved with running a greenhouse or nursery. Depending upon the structure of the business you may work with the public or with possibly in a business to business arrangement. Greenhouses can be used for commercial plant purposes or in food production.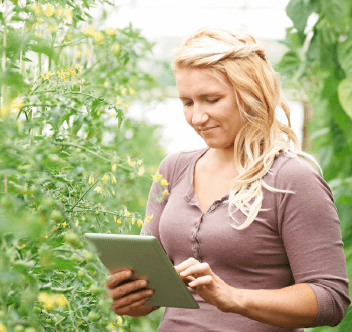 What responsibilities will I have?
Oversee inventory of plants
Plan species to be planted in conjunction with holidays, climate, time of year.
Provide supervision over greenhouse workers
Be knowledgeable about the stages of plant life and diseases that may occur
Preform harvest plants or their fruits
Make recommendations on fertilizer and potting mediums
Effectively manage greenhouse equipment and computer controls
Explore ways to improve processes for more efficient growth and harvest yields
Maintain breeding records
Forecast demand to determine plant populations
Ensure that operation is compliant with environmental regulations
What education and training is required?
A bachelor's degree in horticulture is preferred but can also have an associates degree.
To pursue a career as a Greenhouse Manager
The following high school courses are recommended: agricultural education, a focus on sciences such as botany, biology, horticulture, and mathematics.
Where can I work?
Greenhouse managers can work with a variety of plants including bedding plants, hydroponics, seed companies, shrubs or fresh flowers. Greenhouses could be owned by an independent owner or by a larger company.
Future Job Market / Outlook
The future outlook for greenhouse manager will be good over the next five years.
Suggested Professional Organizations and Associations
Nursery Growers Association
State Vegetable Growers Association
Bedding Plant Growers Association