Overview
A forester is a professional in charge of caring for, planting and managing trees or forests. They are involved in a range of activities including restoration, conservation, timber harvest, and managing protected wooded areas.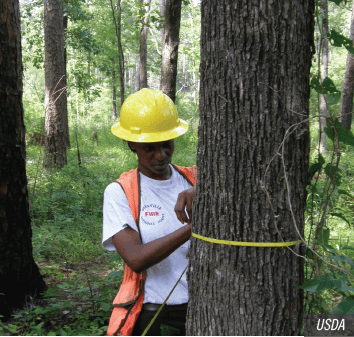 What responsibilities will I have?
Conduct technical forestry work including: timber marking, volume estimation, technical assistance for use of forest, sale of forest products
Collect forest data
Establish and measure permanent forest sample plots
Prepare stands for contract tree planting
Prepare contracts for harvesting forest products and other contract services
Mark and investigate trees that are ready to be harvested
Interpret aerial photographs of plots
Coordinate and conduct felled-tree volume studies
In instances of burning, evaluate areas to be burned prior to and after burning
Maintain burning records and evaluations
Use forest measurement instruments and electronics
Perform pre-inspection prior to tree-trimming work
Inspect trees for hazardous potential
Assist in wildfire prevention
Respond to wildfire emergencies
What education and training is required?
The majority of Forester roles require bachelor's degree in forest management, natural resources, fisheries, wildlife, and conservation or a related field.
To pursue a career as a Forester:
The following high school courses are recommended: agricultural education, biology, horticulture, mathematics, natural resources, and computer courses.
Where can I work?
Foresters work for timber companies as well as state parks and government agencies. Some are self-employed.
Future Job Market / Outlook
The future outlook for a forester will be good over the next five years.
Suggested Professional Organizations and Associations
Society of American Foresters
Association of Consulting Foresters
National Association of State Foresters
Forest Resources Association
Tree Care Industry Association
State Forestry Associations