Overview:
Food Animal Veterinarians are responsible for the care of animals that are raised for food production and human consumption. They provide medical care consisting of research, diagnoses, and prevention.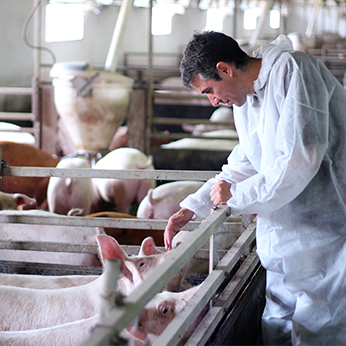 What responsibilities will I have?
Provide health care for livestock, and possibly laboratory animals
Examine animals to determine nature of illness or injury
Diagnose and treat injuries
Monitor animal performance and provide regular feedback via performance management reports
Provide technical expertise in health management including biosecurity, disease identification, prevention, control and treatment, regulatory and food safety requirements.
Research new diseases, medicines and procedures
Mentor veterinarian technicians regarding veterinarian medicine and animal related illnesses
Test and vaccinate, prevent and control contagious animal diseases
Responsible for ensuring sanitary measures before, during and after all procedures
Operate medical equipment
Euthanize animals when necessary
Provide preventative care to maintain animal health
Document for each specific animal treated
Oversee staff and office/business affairs
What education and training is required?
A doctorate of Veterinary Medicine is required. A bachelor's degree in animal science, biology, chemistry, animal nutrition, zoology or other related majors is required before being accepted to a doctoral program.
To pursue a career as a Veterinarian:
The following high school courses are recommended:agricultural education, a focus on sciences such as animal science and biology, chemistry, physical science, and mathematics.
Typical Employers:
Employed by food production companies, governmental agencies, and some university research farms.
Future Job Market/Outlook:
The future outlook for Food Animal Veterinarians is expected to be good.
Suggested Professional Organizations and Associations:
American Veterinary Medical Association
American Society of Animal Science
American Association for Laboratory Animal Science
American Association of Swine Practitioners
American Association of Laboratory Animal Practitioners