Florist
Current Job Openings:
No current listings at this time, Click Here to search for other openings
Overview
Florists are artists; they design and create arrangements of flowers for us to enjoy. Some arrangements are in vases, bouquets, sprays, or larger displays for a party or showcase.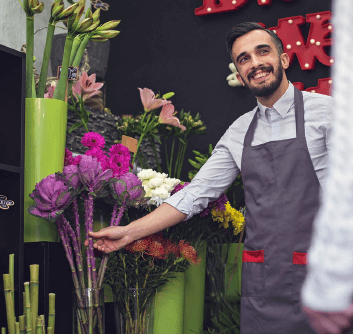 What responsibilities will I have?
Design wedding or event flowers
Manage bookings of events
Deliver arrangements to residences, churches, funeral homes, weddings etc.
Provide quotes for various sizes and designs
Have knowledge of flowers to be able to recommend and suggest varieties for different arrangements
Take online and phone orders
Care for plants that are in stock
Appropriately greet and assist walk-in customers
Work to maintain cleanliness of the shop and maintain its appearance
Organize and clean the cooler
Must be able to work weekends as that is when many events utilizing flower arrangements are typically held
What education and training is required?
A high school diploma or preferably an associate degree in business management, floral design/plant landscaping.
To pursue a career as a florist:
The following high school courses are recommended: Agriculture education, biology, horticulture, plant science, art, home economics, and business courses.
Where can I work?
You can work anywhere geographically. Most florist shops are small businesses. In larger cities you can find shops that specialize in large events or displays.
Future Job Market / Outlook
The future outlook for a florist will be good over the next five years.
Suggested Professional Organizations and Associations *Depends upon area of expertise
Society of American Florists
American Institute of Floral Designers
Creative Floral Arrangers of the Americas