Extension Faculty
Overview
Extension faculty work at the university level, conducting research and providing programing on their specialty area, some may have a small undergraduate teaching assignment but it is not the primary function of their role.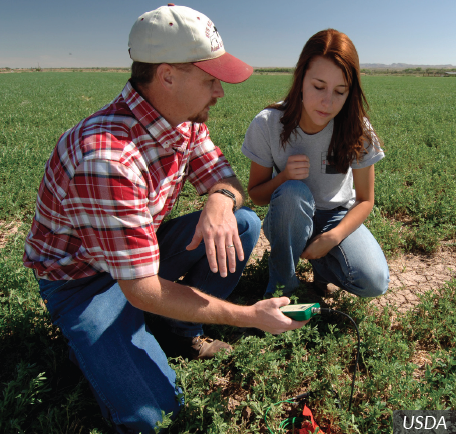 What responsibilities will I have?
Conduct research-based educational in area of expertise
Manage budget as it relates to research initiatives
Investigate, develop and refine value-added content to a variety of delivery platforms
Support extension educational programming in the state
Evaluate and report the impact of programs
Provide assistance in developing youth programming and education on topic of expertise
Actively seek out agriculture and natural resource needs in the counties informing leadership and specialists of those opportunities and then develop and carry out appropriate responses to meet needs
Develop volunteer networks and support strategies required to sustain programs
Teach courses at state land-grant universities
Conduct research that will be helpful to those in your state and produce resources based on your work
What education and training is required?
Extension educators have a Masters or PhD in a topic that they cover.
To pursue a career as an Extension Faculty member:
The following high school courses are recommended: agricultural education, mathematics, business courses, English, computer courses, biology, home economics and chemistry.
Where can I work?
Extension educators works at land-grant universities, in laboratories, and may travel their assigned state to various locations to conduct programs or research.
Future Job Market / Outlook
The future outlook for an extension educator will be good over the next five years.
Suggested Professional Organizations and Associations
National Association of Extension 4-H Agents
National Association of County Agricultural Agents
Organizations affiliated with your area of expertise (livestock, horticulture, etc.)