Evisceration Processor
Overview
Evisceration processors remove the internal organs from carcasses during meat processing.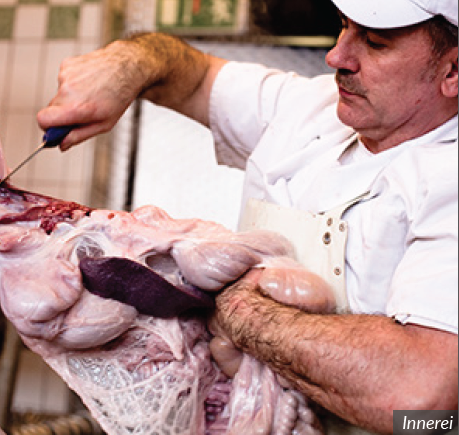 What responsibilities will I have?
Wash out carcasses in the wash cabinet, as well as by hand
Cut and salvage assigned components of the animal
Responsible for keeping work area as clean as possible throughout the shift
Frequently rotates positions within the Salvage Line with other co-workers
Inspect carcasses for quality
Receive all carcasses that were culled during processing
Keep processing line shackles full at all times
In poultry: remove lingering feathers
Work directly with the USDA inspector
What education and training is required?
A high school diploma is required to be an evisceration processor.
To pursue a career as an Evisceration Processor:
The following high school courses are recommended: agricultural education, animal science, mathematics, English, foreign language, biology and chemistry.
Where can I work?
Evisceration processors work in meat processing plants.
Future Job Market / Outlook
The future outlook for a eviscerator processor will be good over the next five years.
Suggested Professional Organizations and Associations
Poultry Science Association
World's Poultry Science Association
National Meat Association
Association of Meat Inspectors
State level associations and federations