Event Manager
Overview
Event Managers are responsible for planning and organizing events. They make sure that the events run smoothly and are in charge of all aspects of the events.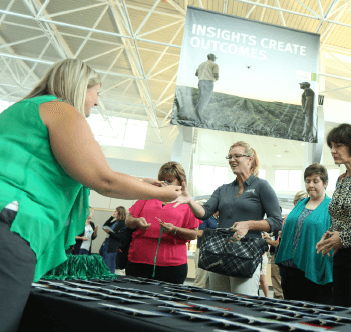 What type of responsibilities will I have?
Assess necessary budgets for events
Keep track of RSVPs and dietary restrictions
Prepare and mail invitations
Ensure details of events with clients
Hire and supervise event staff
Reserve appropriate locations for events
Select the food and catering services
Order giveaways for attendees
Ensure compliance with all health and safety regulations
Negotiate event accommodations
Choose an audio-visual equipment and production company
Monitor the event while it's taking place and resolve issues on site as they arise
Ensure proper permits are obtained to host the event in the municipality if needed
Promote the event through advertising and social media
What education and training is required?
Bachelor's degree in agriculture business, public relations, hotel and restaurant management or communications.
To pursue a career as an event manager:
The following high school courses are recommended: agricultural education, mathematics, English, personal finance and computer courses.
Where can I work?
Some companies hire events managers to handle events, field days, trade shows etc. Some event managers are self-employed and contract their work out to different clients.
Future Job Market / Outlook
The future outlook for an event manager will be good over the next five years.
Suggested Professional Organizations and Associations
National Agri-Marketing Association
Event Planners Association
National Association for Catering and Events
Meeting Professionals International