Electrician / Electronics Technician
Overview:
Electrician/Electronics Technicians implement wiring and the maintenance for mechanical equipment in electrical systems.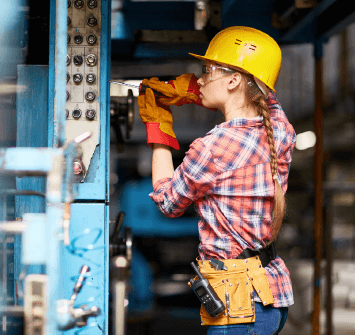 What responsibilities will I have?
Installation, maintenance and repair of electrical systems
Read blueprints and diagrams while troubleshooting and diagnosing electrical problems
Perform preventative maintenance to avoid operational failures of electrical systems
Install electrical wiring, assemble electrical parts and test fixtures and components that provide electricity to related instruments
Provide drawings and suggestions related to inspection and testing
Use computers and other technologies to test electrical equipment
Tear apart and reassemble equipment
Read dials and meters to determine amperage, voltage, electrical output and input at specific operating temperature to analyze parts performance
Install electrical warning systems
Ensure compliance with local and national electrical codes
Maintain an inventory of the instrument/electrical/electronic parts
Assist in developing, trainings and reviewing electrical programs and procedures for company
What education and training is required?
A high school diploma or more preferably an associate's degree in industrial equipment technologies, HVAC Maintenances or electrical/electronic technology is required. With a high school diploma you will need to earn electrical certifications.
To pursue a career as an Electrician:
The following high school courses are recommended: agricultural education, a focus on science, and mathematics.
Where can I work?
Typical employers: employed by farm equipment dealers and manufacturers, grain milling operations, research firms, meat processing companies, as well as some state and government agencies.
Future Job Market/Outlook:
The future outlook for Electricians is projected to be good to excellent depending on skills, certification and location.
Suggested Professional Organizations and Associations:
National Electrical Contractors Association
Farm Equipment Manufacturers Association
Midwest Equipment Dealers Association
International Association of Electrical