Overview:
Electrical Engineers use technology to install, repair, service, and create electrical operations.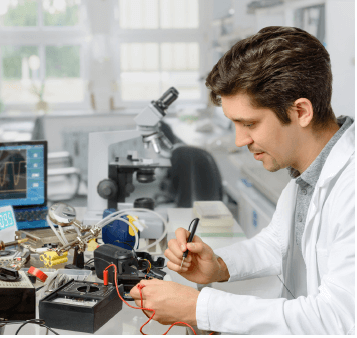 What responsibilities will I have?
Create electricity generating stations using semiconductors on a circuit board while developing a new electronic device
Oversee installation, maintenance and repair of new and existing electrical systems
Design blueprints and diagrams for electrical components
Participate in technical integration for complete system to ensure system meets product specification.
Work with Supply Management, Sales, Marketing, Manufacturing, and Quality Assurance to optimize designs for cost, quality, and manufacturability.
Use computers and other technologies such as global positioning to create and test electrical equipment
Tear apart and reassemble equipment
Read dials and meters to determine amperage, voltage, electrical output and input at specific operating temperature to analyze parts performance
Develop electrical warning systems
Ensure compliance with local and national electrical codes
Maintain an inventory of the instrument/electrical/electronic parts
Assist in developing, trainings and reviewing electrical programs and procedures for company
What education and training is required?
A bachelor's degree in electrical, industrial, mechanical or agricultural engineering is required.
To pursue a career as an Electrical Engineer:
The following high school courses are recommended: agricultural education, a focus on physical science, and mathematics.
Where can I work?
Typical employers: employed by farm equipment manufacturers, grain milling operations, research firms, meat processing companies, as well as some state and government agencies.
Future Job Market/Outlook:
The future outlook for Electrical Engineers is projected to be good to excellent depending on skills, specialties and location.
Suggested Professional Organizations and Associations:
National Electrical Contractors Association
Farm Equipment Manufacturers Association
Midwest Equipment Dealers Association
Institute of Electrical and Electronics Engineers
National Society of Professional Engineers
Association of Equipment Manufacturers