Overview
A crop scout inspects farmers' fields and records weed, insect, disease and other observations. This is an important role to help farmers make timely, informed and economical field crop decisions.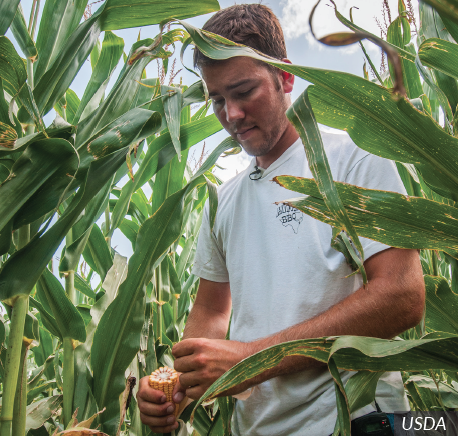 What responsibilities will I have?
Walk fields of customers often in order to look for potential robbers of yield
Identify weeds that are growing in fields when they are preferably less than 3 inches tall, make recommendations on herbicide or mechanical control methods
Locate and identify pests that may impact yield, make recommendations on control methods based on experience
Conduct root digs in order to look for corn rootworm and other root eating pests
Perform yield estimates throughout the growing season to provide customer with an estimate of what yields will look like
Use knowledge of growth stages in crops in order to predict potential problems during that stage of the growing season
Identify and potentially diagnose crop diseases or pest infestation
Communicate with the farmer or other individuals your findings
Make recommendations based on your finding
Remain up to date on the latest chemistry and technologies (such as drones or apps)
What education and training is required?
Although a degree in agronomy, crop science, weed science etc. is extremely helpful there is no training or education required to be a crop scout. There are crop scout trainings, typically offered through a local extension office or agriculture retailer that would be helpful.
To pursue a career as a crop scout:
The following high school courses are recommended: agricultural education, mathematics, English, biology, chemistry and environmental science.
Where can I work?
Crop scouting if often a side job for people, so it can be done independently. Crop consultants, ag retailers and seed/chemical companies also hire crop scouts to help their customers maximize their yields.
Future Job Market / Outlook
The future outlook for a crop scout will be good over the next five years.
Suggested Professional Organizations and Associations
American Society of Agronomy
Crop Science Society of America
Weed Science Society of America