Carpenter / Laborer
Overview:
Carpenter/Laborers are responsible for implementing general maintenance, mechanical, and carpentry duties.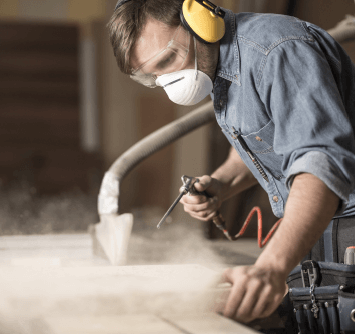 What responsibilities will I have?
Unload, carry and stack material and place tool and equipment in position
Clean for general maintenance
Operate wheel loaders, forklifts, skid steers, and similar equipment
Assist operations personnel, maintenance personnel and supervisors as needed
Build or wooden fixtures used in buildings, using woodworking machines, carpenter's hand tools, and power tools.
Select and order lumber and other required materials
Assemble and fasten materials to make framework
Read and interpret blue prints, assembly instructions and similar directions
Work with and/or remove hazardous material
Perform minor plumbing, welding and/or concrete mixing work
Other manual duties as directed
What education and training is required?
A high school diploma with additional certifications depending on area of specialty is required.
To pursue a career as an Carpenter/Laborer:
The following high school courses are recommended: agricultural education, a focus on science, and mathematics.
Typical Employers:
Employed by food processing companies, meat processing companies, research firms, agronomic facilities, as well as environmental agencies.
Future Job Market/Outlook:
The future outlook for Carpenter/Laborers is projected to be good.
Suggested Professional Organizations and Associations:
International Association of Electrical
National Electrical Contractors Association
American Wood Council
American Institute of Constructors
National Association of Women in Construction