Beef Farm Worker
Overview
A beef farm employee assists in daily operations on the farm. This can include birthing, feeding and breeding.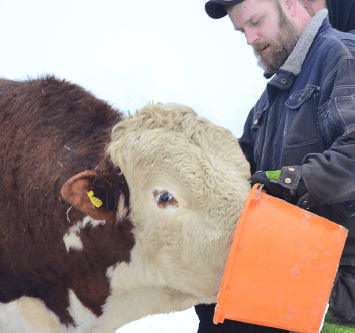 What responsibilities will I have?
Distribute daily feed rations
Identify sick animals and determine proper treatment or contact veterinarian
Assist in breeding programs including artificial inseminations and synchronization
Transport cattle to market
Assist in branding and tagging of calves
Assist in vaccination programs
Maintain and build fence
Maintain equipment
Understand current beef markets
Maintain high standards of animal welfare
What education and training is required?
A high school diploma is required. Although it is not always required associates degree in animal science or animal husbandry would be recommended.
To pursue a career as a beef farm worker:
The following high school courses are recommended: agricultural education, animal science, biology, mathematics and chemistry.
Where can I work?
As a farm worker you have the ability to work for different sizes of farms. You may work for a small cow/calf operation or you may work for a larger ranch or feedlot. You may also be self-employed as a producer.
Future Job Market / Outlook
The future outlook for a beef farm worker will be good over the next five years.
Suggested Professional Organizations and Associations
National Cattlemen's Beef Association
State/Local Cattleman's Association