Athletic Turf Manager
Overview
Athletic turf managers are responsible for producing and maintaining sporting grounds. They ensure the turf and surrounds are looking pristine.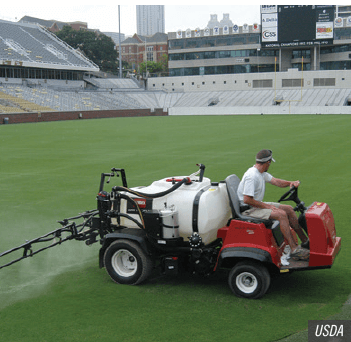 What responsibilities will I have?
Develop and implement plans for the successful maintenance of all athletic fields and grounds
Plan, oversee, and project-manage major athletic grounds and fields renovation projects, as assigned; schedule, facilitate, oversee, and quality control reconstruction activities, including the work of external contractors
Oversee assigned personnel, which includes assigning work, work allocation, training and problem resolution; evaluating performance and making recommendations for personnel actions
Develop and manages budgets related to athletic fields and grounds
Purchase, maintain, and manage inventory of athletic field maintenance equipment and supplies
Supervise the conversion and protection of athletic fields during special events
Restore fields damaged by weather, use, or other conditions to a level commensurate with that expected athletic grounds
Manage and reviews irrigation systems performance and initiates changes when necessary
Be in attendance during sporting events to supervise field use
What education and training is required?
A bachelor's degree in turfgrass management is required.
To pursue a career as an athletic turf manager:
The following high school courses are recommended: agricultural education, mathematics, Spanish, biology, chemistry and environmental science.
Where can I work?
Athletic turf managers can work for universities, golf courses, municipal stadiums, and professional sporting teams.
Future Job Market / Outlook
The future outlook for an athletic turf manager will be great over the next five years.
Suggested Professional Organizations and Associations
National Turfgrass Federation
Golf Course Superintendent's Association
Sports Turf Managers Association