Artificial Insemination Technician
Overview
An artificial insemination technician inseminates animals with semen to assist impregnation in the breeding of livestock species.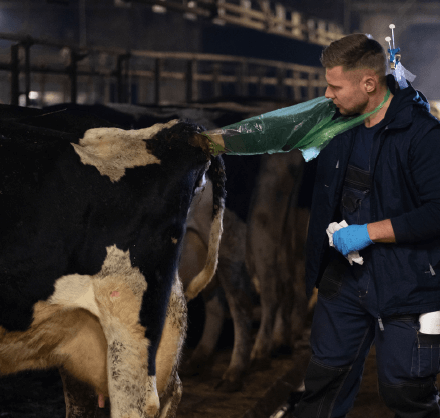 What responsibilities will I have?
Provide artificial insemination (A.I.) services to clients, use understanding of anatomy to accurately place semen in the proper place in the reproductive track
Maintain proper sanitation
Store, travel with, thaw and prepare semen for insemination
Promote new and current products/services to customers
Offer reproductive consultation to breeders and farmers
Perform pregnancy checks on animals
Use humane handling practices when working with the animals
Oversee and assist with heat detection
Work closely with farm supervisor to better understand operation and its goals
Keep records of insemination services
Give vaccinations as needed
What education and training is required?
A high school diploma is required and a degree in animal, poultry or equine science would be beneficial but it is not required. To perform certified A.I. work, you must have a certification in A.I. The National Association of Animal Breeders has determined some recommended standards for AI Training Schools/Certifications.
To pursue a career as an artificial insemination technician:
The following high school courses are recommended: agricultural education, biology, mathematics, anatomy and computer courses.
Where can I work? How much money will I make?
Most artificial insemination technicians are self-employed, but companies that are vertically integrated will also hire artificial insemination technicians.
Future Job Market / Outlook
The future outlook for an artificial insemination technician will be good over the next five years.
Suggested Professional Organizations and Associations
National Cattleman's Beef Association
National Livestock Producers Association
National Pork Producers Council