Aquaculture Hatchery Manager
Overview
Hatchery Managers over see all aspects of an aquaculture hatchery including the management of personnel, fish, infrastructure and equipment.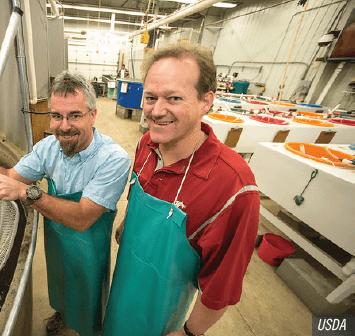 What responsibilities will I have?
Track fish life cycles to determine the proper time for harvesting or release
Look for disease and treat as needed
Find ways to trap and breed in an environmentally friendly and economical way
Oversee water quality assurance/quality control program
Maintain current knowledge of industry trends and information regarding hatchery equipment and operations
Develop and track hatchery budget
Manage fish care, maintenance, packing and transfer activities
Hires and trains hatchery staff and supervises employees
Maintains records and prepares reports on hatchery operation, ensures inventories, equipment, and capital improvements are properly maintained, coordinates hatchery operation with other department functions, provides input on new hatchery designs
Ensures worker safety requirements are met
Works with nutritionists to develops feeding rations and schedules needed for specified growth rates for a variety of aquatic species
Meets with federal and state officials to establish priorities for fish production and coordinate research projects; makes presentations to interested groups and technical committees;
Conducts hatchery tours, explains operations and answers questions on fish production
What education and training is required?
Hatchery managers typically have a bachelor's degree in fisheries science, aquaculture, hatchery management or hatchery maintenance.
To pursue a career as a hatchery manager:
The following high school courses are recommended: agricultural education, animal science, mathematics, English, biology, chemistry, wildlife biology and environmental sciences.
Where can I work?
Aquaculture hatchery managers are employed by large commercial fisheries who produce and harvest fish. They may also be employed by state and government environmental agencies.
Future Job Market / Outlook
The future outlook for a hatchery manager will be good over the next five years.
Suggested Professional Organizations and Associations
American Fisheries Society
National Aquaculture Association