Overview
A professional working as an animal welfare specialist or auditor typically perform animal handling/welfare audits and food safety audits on farms, animal production facilities, and animal processing facilities.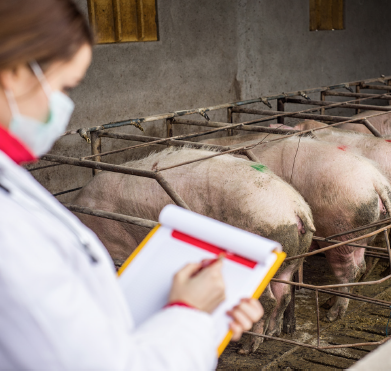 What responsibilities will I have?
Perform audits at assigned facilities, assuring consistency and accuracy in all audit reports
Ensure company and/or legal standards are maintained in terms of animal handling/welfare, euthanasia, and food safety
Support farms and production facilities in the development and implementation of corrective actions identified in internal or external audits and provide follow-up to ensure completion
Properly report and record animal welfare misconduct
Collect information regarding sources of high stress in animals
Provide training as requested/needed regarding animal welfare practices
Ensure that livestock truck drivers are adhering to animal welfare policies
Lead and implement programs, protocols, or policies to drive improvement in animal well-being or recommend changes to existing standards
Participate in animal care investigations as designated
Schedule and conduct travel inspections
Possess a working knowledge of livestock handling tools
Monitor animal research news and animal rights extremism risk activity in assigned region
What education and training is required?
A bachelor's or master's degree in animal science, animal welfare, or a related field is required. It is also often preferred that an Animal Welfare Auditor be Professional Animal Auditor Certification Organization (PAACO) certified. Other certifications relevant to different animals may also be requested. Being bilingual is also often preferred.
To pursue a career as an Animal Welfare Specialist/Auditor:
The following high school courses are recommended: agricultural education, biology, animal science, anatomy, Spanish, and mathematics.
To pursue a career as an Animal Welfare Specialist/Auditor:
Animal welfare specialists and auditors work for the government, animal production companies, food and restaurant companies, animal processing facilities, and animal welfare organizations and agencies that oversee or provide services to producers.
Future Job Market/Outlook
The future outlook for an animal welfare auditor will be great over the next five years.
Suggested Professional Organizations and Associations
Animal Agriculture Alliance
Professional Animal Auditor Certification Organization
American Society for the Prevention of Cruelty to Animals
American Humane Association