Agriculture Science Teachers - Secondary
Overview:
An Agricultural Science Teacher is responsible for the education of agriculture, food science, and natural resources for students. Using these topics, agricultural science teachers can give students vital skills that are important in the ag industry. These skills include: math, science, leadership, technology, communications, and management. They can also go the extra step in providing strong agricultural education by advising their schools FFA Chapter.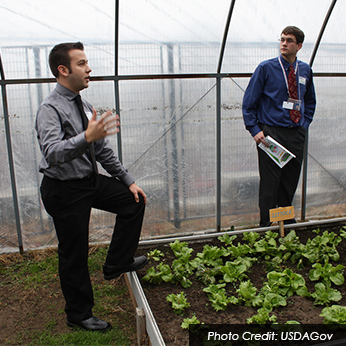 What responsibilities will I have?
Conduct an instructional program educates students about career pathways in agriculture that can be used as a guide to achieving necessary skills for continued education and employment which includes preparing materials such as syllabi, homework assignments, and handouts
Enhance youth leadership and FFA as an integral part of instruction
Provide students with the knowledge and skills necessary to compete in a global economy
Remain abreast and Inform students about agriculture and agricultural literacy
Initiate, facilitate, and moderate classroom discussions
Create lesion plans that are in conformity with school policy, for all courses offered and provide instructional materials and instructional methods used to make teaching and learning effective
Oversee Supervised Agricultural Experience programs of all students who receive instruction by assisting students in selecting a program that fits their interests and abilities; maintaining records, locating training stations, make supervisory visits during school year and during summer month
Supervise and maintain the school laboratory (farm, feeding center, greenhouse, meats laboratory, etc.) used for students supervised agricultural experience
Plan and conduct an organized program of instruction and/or community involvement with adults. This may include, but not limited to alumni, young farmers, and booster clubs. Most of this instruction will be given after school, at night and during the summer
Prepare and submit FFA rosters, entries, registrations, etc. required by the local, district, area, state, and office promptly, and keep an accurate file copy of all records and reports
Attend in area, state, and national training meetings
What education and training is required?
Bachelor's degree in agricultural education or other agricultural related field when coupled with appropriate state teaching licensure.
To pursue a career as an Agricultural Science Teacher:
The following high school courses are recommended: agricultural education, science and mathematics.
Typical Employers:
Typical employers are Middle and High Schools.
Future Job Market/Outlook:
The future outlook for Agriculture Science Teachers is projected to be excellent.
Suggested Professional Organizations and Associations:
National Association of Agricultural Educators
American Association for Agriculture Education
National FFA Alumni Association