Overview
Agricultural broadcasters use radio or television to report on stories that will be found relevant by agricultural viewers, but that also may be used by regional and national outlets reaching non-ag viewers.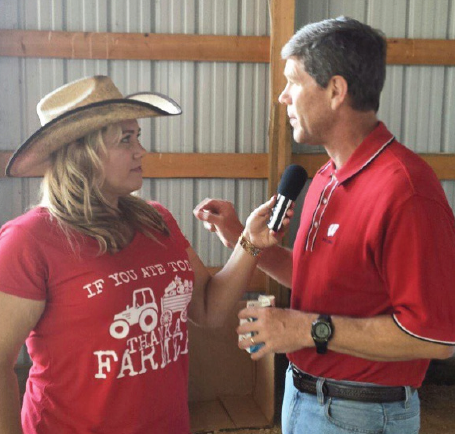 What responsibilities will I have?
Broadcasters may work in radio and television
Gather and organize agriculture from news wires and other sources stories to share with viewers/listeners
Report on news or stories of interest for specific publication/program
Participate in determining editorial content of network programming and in the production of audio promotional, commercial, and value-added information
Share news, weather, market, and feature programming with viewers/listeners
Need to have the ability to relate agriculture to a consumer audience
Attend live, in-person appearances as scheduled by stations
Cultivate regular communication with contacts outside the station related to the agriculture industry
Write scripts
Put together advertisements
Shoot video footage for segments
Put together advertisement packages
Be able to interview people in the studio and on location
What education and training is required?
A bachelor's degree in communication, journalism, broadcasting, or agriculture communications. Strong computer and Microsoft Office (Outlook, Excel, Word, PowerPoint) skills. Video and audio editing skills are preferred.
To pursue a career as an agriculture broadcaster:
The following high school courses are recommended: agricultural education, writing, English, computer courses and public speaking.
Where can I work?
There are many trade publications that are agriculture specific that would prefer to hire someone with an agriculture background. Some newspapers have agriculture reporters and there are also agriculture radio and television shows and stations across the country that have agriculture staff or are solely focused on agriculture.
Future Job Market / Outlook
The future outlook for an agriculture broadcaster will be good over the next five years.
Suggested Professional Organizations and Associations
National Association of Farm Broadcasters
AgChat Foundation
PRSA – Public Relations Society of America
National Association of Broadcasters
National Agri-Marketing Association